Project SPEC
[Project Outline]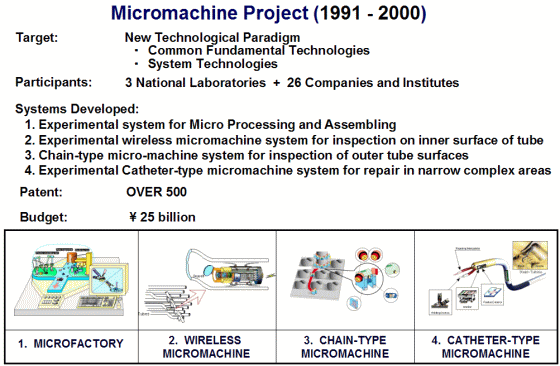 Objectives of the Project

As part of an Industrial Science and Technology Frontier Program, MITI's Agency of Industrial Science and Technology inaugurated in fiscal 1991 a ten-year project having a budget of 25 billion yen and encompassing shared basic technologies, enhanced functional device technologies and systematization technologies for micromachines that work in highly restricted areas, for example, the inspection/repair of tube banks in power plants and diagnosis/treatment within the human body, and the miniaturization of manufacturing equipment. The Micromachine Center has been commissioned by the New Energy and Technology Development Organization (NEDO) to conduct R&D operations related to this project.



Feature of Research and Development Activities
We conducted the following R&D activities:


(1) Research and development on advanced maintenance technologies for power plants
Research, development, and general investigative work has been advanced in relation to:
an experimental system for internal tube inspection, in which a wireless micromachine moves through the interior of a tube under its own power and transmits information relating to blockage and other situations encountered within the tube;

an experimental system for exterior inspection of heat exchange tube banks, in which multiple micromachines travel through the narrow spaces between the tubes, couple and uncouple among themselves to match the shape of the object to be inspected, and perform inspections;

an experimental system for performing tasks in narrow complex areas, in which a micromachine is inserted through an inspection port to perform interior inspection and repair work;

technologies for the enhancement of functional devices; and shared basic technologies.
Advanced Maintenance System for Power Plant


(2) Research and development on microfactory technologies
Research, development and general investigative work on microfactory technologies have been carried out to save energy through the "microsizing" of manufacturing facilities for small industrial devices. We advanced research, development on experimental systems for micromachining and assembly systems having the capability to (a) integrate the instruments/ devices for multiple processing (e.g., machining, assembly, transport, inspection, etc.) in highly restricted areas and (b) create product models for micro parts.
Microfactory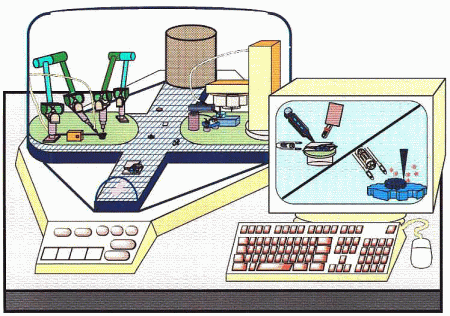 (3) Research and development on micromachine technologies for medical applications
Toward the eventual objective of developing elemental technologies necessary for the realization of micromachine systems for treatment and diagnosis within body cavities, we researched technologies for cerebrovascular diagnostic and treatment systems. We also conducted research, development, and general investigative work on: micro tactile sensing technologies for use in monitoring contact pressure during catheter or balloon operation; laser diagnostic and treatment technologies for (a) differentiation of normal and diseased tissue and (b) laser irradiation of the afflicted area; and other technologies.
Intraluminal Diagnostic & Therapeutic System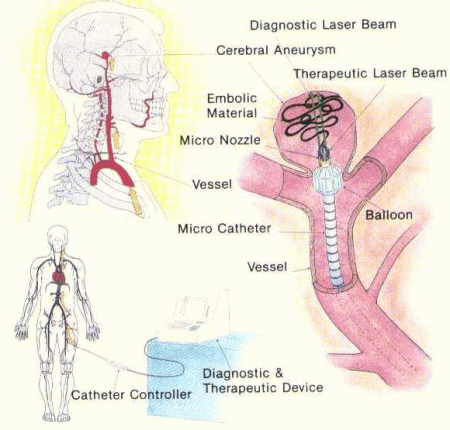 Framework of Micromachine Technology Project






Achievement of Micromachine Technology Project

(1) Systematization Technology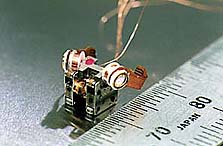 Micro Unit Machine for Experimental Chain-type
Micromachine System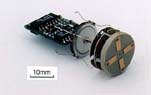 In-pipe Wireless Micromachine


Verification of Algorithms for Pattern Forming


(2) Functional Device Technology

Micro Laser Welding Device


Fluid Dispenser for Microfactory


Laser Scanner with a Photo-Current Generator


Micro Scanning Sensor


(3) Basic Technology

High Precision Micromachining


X-ray Lithography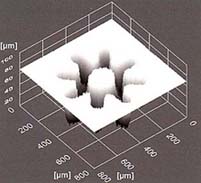 Micro Electrochemical Machining